Guests Comments
Guests Comments (2016-2017) from visitor's book at The Sun Catcher Bed and Breakfast in Struisbaai
UNATHI MSILA CAPE TOWN
The service was very good and the food was nice, except for the electricity that switched off. - Garden Room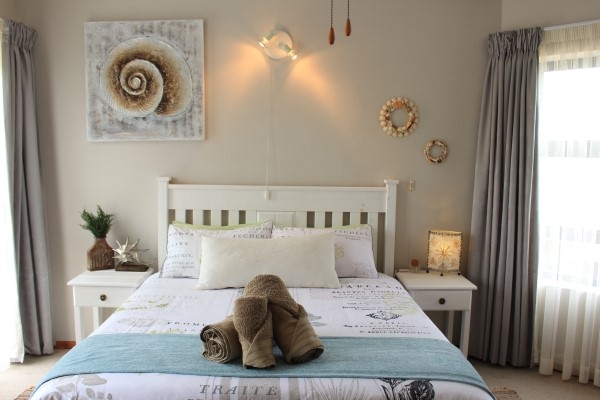 PATRICIA SIBANI CAPE TOWN
IT A NICE PLACE TO BE. YOU FEEL LIKE YOU ARE IN YOUR OWN HOUSE WITH HELPERS. KIND PEOPLE TOO. - Shell Room
JOANNA + SVEN GERMANY
It was a really nice stay with great hosts. Thank you so much. All the best. J+S - Shell Room
Alice + Simone Germany
Thanks for your support, it was a nice stay! - Garden Room
John Jhb
Clean, Organised, Quiet, Thank you - Shell Room
Boet + Rina Pretoria-Noord!
Baie dankie julle. Dit was wonderlik! Dankie vir al die vriendelikheid en lekker kuier! Voorspoed vir 2017. - Garden Room
Barene & Willem Walters BRITANNIA BAAI
5 Ster kamer, skoon en goed toegerus. Baie aangename & vriendelike "hostesses". Sal weer kom. Ontbyt-fantasties. - Shell Room
JAN + SHARLENE BURGER POLOKWANE
Mooi! Skoon! Gerieflik! Vriendelike geselskap. Dankie, Anna + Angie!! - Garden Room
Corrie Vredendal
Uitstekende diens - skoon - veilig - Baie dankie vir julle vriendelikheid - Julle is aangename mense. Psalm 23 vir julle!!! Baie voorspoed + seën vir julle. Ons het dit baie geniet. Ons kom weer!!! Baie dankie. - Shell Room & Garden Room
PAOLO MARSETICH ITALY
TOO GOOD TO - MUST RECOMMEND TO EVERYONE - Shell Room
FEDERICO LATTANZI ITALY
AMAZING THANK U. - Garden Room
Michaela Johannesburg
Bed was nice, food too. Welcoming friendly. Great conversations. - Shell Room & Garden Room
Julia and Paul Frankfurt
Super nette Mädels! Tolle Aufenthalt! Vielen Dank! - Garden Room
Christian & Leaan Fourie Hermanus
Baie lekker! Ons sal weer kom kuier. Baie goeie matras! - Shell Room
Ken & Maureen Dickens Kleinmond
One of the nicest and friendliest places we have stayed at. - Shell Room & Garden Room
Travis & Luci Craig Cape Town/Virginia
Brilliant room, amazing view of the ocean from the room, and awesome place. - Shell Room
Isabela Aguiar ¡¡URUGUAY!!
Me encantó el lugar, hermosas vistas que iluminan la estadia. Así como sus anfitrionas fue hicieron todo Perfecto. ☺ - Shell Room
Elisa Squitin Uruguay!
Muy auiaghes los anfitrionas y el lupas hermoso! Cálido y encontedor! - Shell Room
A. Lynott Cape Town South Africa
Great stay Great hosts. Thank you!! - Garden Room
S. Ewels S/West
C U again. 4 sure! - Shell Room
Philip + Lisma Kemp Kaapstad
Lieflik, laat ons baie welkom voel, fantastiese verblyf. Baie geniet, kom weer terug! 🙂 - Shell Room
Antoinette en Kobus Hall Pretoria
Baie dankie vir n lekker Bed and ontbyt. Julle Plekkie verdien n * en is van die Beste in hierdie omgewing. Sien Jul Beslis weer. - Garden Room
CHARLIE + JEN CAPE TOWN
WE FOUND ANOTHER "LITTLE PIECE OF HEAVEN" ANNA & ANGIE, SPECIAL ANGELS WHO TOOK CARE OF US. IT WAS INDEED + WONDERFUL + RESTFUL WEEK-END. WE MOST DEFINETLY BE BACK. GOD BLESS YOU BOTH AND YOUR HOSPITALITY + WONDERFUL SENSE OF HUMOUR WILL BE REMEMBERED. - Shell Room

Mark en Anelle Hermanus
Was ongelooflike lekker kuier. Sal definitief aan vriende voorstel & sal weer terugkom. - Shell Room